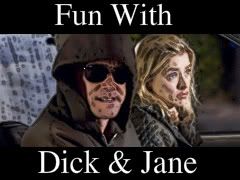 HA HAAA! Hell to da NAW. I know it is sad that this family had to result to this but the movie "Fun with Dick & Jane" comes to mind. They were definitely rookies to be doing breaking and entering robberies in broad daylight, in a minivan, WITH THEIR CHILDREN.
As my good friend A.Red would say they were so
not watching their set-up.

HAMILTON, Mass. -- Two suspects were arrested in Hamilton on Friday for two burglary incidents while their children waited in the family car.

A woman on Madonna Ave. called police after she approached one of the burglars, suspected to be Elizabeth A. Schultz, 30-years old, who was waiting in the sedan with her children in the resident's driveway. Shultz told the woman she was looking for a friend, and then sped off honking the horn.

A man, allegedly the husband of the female suspect, James J. Shultz of Norwood, exited the house with a white plastic bag filled with articles from the home. After being challenged by neighbor John Michaud, the suspect dropped the bag and ran to the sedan which was waiting at the end of the street.

(SOURCE)